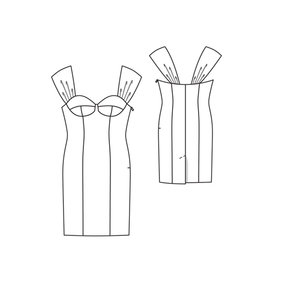 The Pattern: BurdaStyle 07/2011 #132
Size + Alterations: I started with a size 48 but I followed Gertie's Craftsy Course for the fitting so the actual size is anyone's guess. I took quite a lot out of the back panels and the three-piece cup changed shape dramatically.
The Fabric: Oh, I splurged for this 😉 1.5m of Anna Maria Horner's Turn of Events Voile and the same of medium weight cotton  both from the lovely folks at Raystitch.
Time to Make: I was on a bit of a deadline for this project so it was quite intense. I completed it during evenings for a week and over a weekend. Using the craftsy course was great as it broke it into manageable chunks but there's no escaping the fact that there is a lot of hand sewing and fitting involved.
New Skills: Too many to count thanks to following the course – thread tracing, draping the cups, properly underlining, boning, joining the lining by hand.
Favourite Features: The fabric is just dreamy to work with and I love the way the zipper works – I hate the feeling of a side zipper tab under my arm so I inserted it upside down. It now sits at the bottom when zipped up.
Ch-ch-ch-changes: In hindsight, I made the cups a little shallow. It fits because they are quite wide but the centre panel doesn't sit flat on my chest. The bodice is really a work of engineering because of the weight it needs to support so next time I would trace off the cups of a well fitting bra as the starting point.
First Worn: Eek, I haven't yet. I chickened out of wearing it to the black-tie even as it was work related and this felt a little too booby-liscious. I'm working on building up my cahones to wear it in public.
Repeatability: Well I don't really need another for the reasons above but for the learning experience – absolutely!
Sew Grateful: Thanks to Gertie for being a kick-ass teacher on the course.